Experimental Cast Polymer Pump Impellers & Diffusers Resists Cavitation
10-04-2013, 13:09
(This post was last modified: 10-04-2013 13:10 by Admin.)
Admin
Administrator


Posts: 95
Joined: Nov 2010
Reputation: 0
Experimental Cast Polymer Pump Impellers & Diffusers Resists Cavitation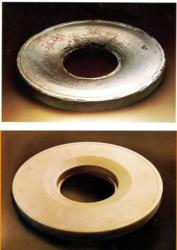 Intech Power-Core released a study today outlining the details of extensive testing performed on 100% cast impellers made of a Power-Core material. The study suggests that the light weight and electrically insulated Impeller will keep perfect balance while it resists cavitation wear and corrosion common to metal impellers.
Closter, New Jersey (PRWEB) March 31, 2013
Intech Power-Core Impeller Resists Cavitation And Outlasts Metal
The results show that the steel alloy loses significant weight over time, which is an indication of the pitting caused by cavitation. The Power-Core® impeller, by contrast, exhibits no weight loss, or wear, whatsoever.
A study released this week by Intech Power-Core finds that polymer impellers and pump components can outlast and outperform metals and composites. This experiment studied an impeller made of stainless steel and compared it to a pump impeller running in the same environment but made from Power-Core ® a proprietary cast polymer. The results were impressive showing no-weight loss due to cavitation and erosion wear in the polymer and considerable cavitation damage and erosion caused to the stainless steel counterpart.
Click here for more info
User(s) browsing this thread: 1 Guest(s)